Ohhh…Wow it was breathing taking view of a brother fucking his sister with all his love and passion. I was standing just 3-4 feats away from the bed I could see nearly whole bed and also my siblings having fun over that.
Like I was expecting their face were away from the door, Simmi Didi was lying on my bed totally naked, both of her feet were in air and fleshy thighs were stretched out to maximum. Harish Bhaiya was also completely naked, lying over Simmi Didi on his forearms and knees, while keeping Simmi Didi's fleshy thighs wide and apart his legs were also broadened wide.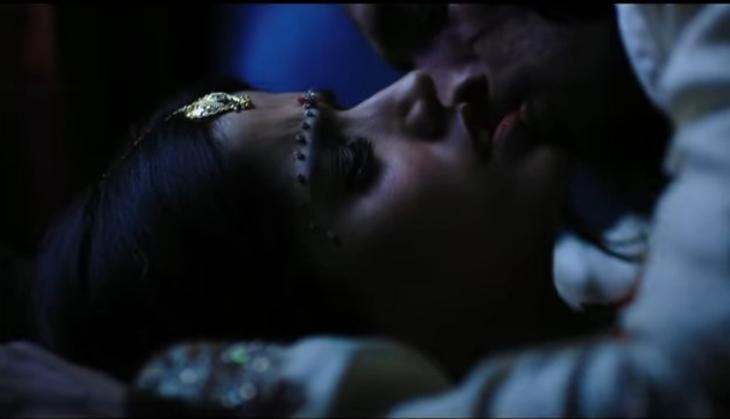 I could see my loving sister's fuck hole clearly and it was overblown with my brother's thick long monster, he was fucking Simmi Didi furiously. Harish Bhaiya's body was moving steadily and his heavy hips were rising and falling in rhythm over Simmi Didi's crotch.
While pressing her thick and swollen pussy lips with his balls I could see Bhaiya's thick monster appearing and disappearing into Simmi Didi's widely stretched fuckhole again and again. As Simmi Didi was newlywed her hands were full of red color bangles but that instant, instead of her wedded husband's body her Mehndi decorated arms were wrapped around her brother's back,
and while clenching Harish Bhaiya's muscular shoulders she was moaning in heavenly pleasure. Bhaiya continued thrusting himself into Simmi Didi carelessly and within few seconds his thick shaft started plunging and pistoning Didi's fuckhole bit roughly and Simmi Didi seemed enjoying more while getting fucked like that.
With rising lust and Bhaiya's fucking pace gradually Simmi Didi's cries were getting sharp and erotic and even in the loud voice of AC I could hear them crystal clear. While looking at the things happening I did not realized when I opened the door bit more and turned my entire face into the room.
I saw there was a chair on which Simmi Didi Kurta and Salwar was kept along with Bhaiya's jeans and t-shirt, Didi's bra and Panty were lying on floor and Bhaiya's inner wears were on edge of the bed. While fucking furiously they just remained totally unaware of my presence and I clearly saw their bodies were streaming with sweat, I could see the shine over Simmi Didi fleshy thighs;
slapping wetly together they just continued tossing frenetically on my bed and along with making loud churning voice bed was moving vigorously with their fucking movements. I was glued to the unobstructed view of my brother's long swollen penis plunging and pistoning up and down, appearing and disappearing between my sister's distended cunt-lips.
Real incest sex stories
Simmi Didi's round and fleshy hips were getting crushed under Bhaiya's pumping ass and her fuckhole was also rising and falling to match his thrusts. As it can be easily assumed that I was not in state to think anything, I was somewhat glued to that place and soon they were close to finishing.
I saw Bhaiya gasped couple of times while arching his head and his heavy buttocks started bouncing up and down even more madly. Now his monster was ramming and reaming into Simmi Didi's slit more furiously. Simmi Didi's feet rose further high and now they were facing roof. Her breath started coming out with shuddering and heaving moans.
Even while standing around 4 feats away from the bed I could feel the heat of their bodies, I could smell their sweat and aroma of their mixed pleasure juices which was coming out of Simmi Didi's fuckhole and flowing down to the bed. Suddenly Simmi Didi's cries became sharper, and her faltering gasps rose significantly in pitch and volume and her orgasmic state become clearly visible.
"Oh … oh … ohhh … ohhh …. OHHHHHHH Harish….please stop!" arching her back like a bow Simmi Didi cried in passion and shoved her fuckhole up and tried to grab Bhaiya tight in her arms and thighs may be to stop Bhaiya from pumping her fuckhole and in a moment her body started quivering in tension.
Above Simmi Didi just then Harish Bhaiya gasped loud and rammed himself into her hard and snapped his hips together while squeezing them tight and groaned in fucking ecstasy and finally buried himself deep in Simmi Didi's flesh. It would have been altogether a story of different category if I would have moved from there just then, but I was not in state to think anything and I just remained there.
As passion subsided a bit, Bhaiya moved and his Penis slipped out of Simmi Didi's fuckhole and ultimately saw Simmi Didi's fuckhole oozing out thick sticky and white liquid and just then Simmi Didi tried to push Bhaiya away and before I would have realized that Simmi Didi is about to get up she got up and saw me standing partially inside the room.
"Manu….!" She cried in shock "Manu….?" Bhaiya turned and he too spoke out just my name in fright. Simmi Didi heavy milks were sagging in front of my eyes and I was looking at them, Simmi Didi stared into my eyes with a fear and just then looked down and for a fraction and her eyes got stuck over my crotch. I realized my Penis was out of my clothes and I was holding it in my hands.
Real incest sex stories
I instantly stepped back and climbing all the stares before I would have reached back to the terrace I heard Simmi Didi addressing my name from behind "Manu..Sun…Manu…meri baat sun….." I waited on the entrance of the terrace for a minute and I think while addressing my name Simmi came till the door of the bedroom.
For a instant I thought about going back, for no other reason I wanted to see Simmi Didi stark naked, especially her beautiful melons but with a thought that Bhaiya might start beating me I decided to ran away and once again after jumping over neighbor's roof I came down to street and disappeared from there.
I don't know what I was thinking while running and walking as fast as possible; I just went on going until I reached to the big park located outside our colony. Closing my eyes I rested on the bench to catch my breath. I don't know what was that? Truth or a nightmare, It was impossible for me to believe whatever I saw, Harish Bhaiya was fucking Simmi Didi,
our real sister and I was asking myself again and again, does this has really happened or it is just my imagination. As I said while reading sex stories over this blog and few other I never believed that these stories are true, they always seemed like fantasies but this incident made me believe that all this happens in real life too.
I just kept on sitting on the bench with an occupied mind and suddenly I saw Bhaiya standing outside the boundary wall of the park. While being on the bike he was looking at me and he saw that I have seen him he waved his hand to call me but I turned my face in the opposite direction. Bhaiya addressed my name in loud voice to call me and I started walking away from him,
to the far exit of the park but I kept on turning to see him and I saw Bhaiya was speaking on the phone, possibly with Simmi Didi. I stopped behind the tree to see him. In a minute or two Bhaiya ended the call and looked at the direction in which I was standing, started the bike and rode away towards the main road possibly to go to the factory.
Next within a minute Simmi Didi called me on my mobile; I missed the call. She massaged me with a text "please come back home….I want to talk to you". I deleted the massage instantly. I was restless and could not decide what to do. I sat down in the bench again and called my mom.
Real incest sex stories
Without giving her any hint about my location I asked her where is she and she told me that one of my father's old friend was expired in the morning and they have came to their residence and might reach back home late in the evening after cremation and all.
Next my mom asked me about me and I told her that I have couple of extra classes and ongoing project and I might reach back home 2-3 hours late from my regular schedule and to that my mom spoke out something which was absolutely true but altogether in different way, she said "Jaldi ghar chala ja….Simmi tera wait kar rahi hai".
Anyway I disconnected the call and realized that there was another text from Simmi Didi's number she was asking me if I am coming. I thought about ignoring that massage too but ultimately I replied her back by writing "NO". I sat down in the park for really long and recalled whatever I saw and heard.
It was evident from the conversation which I heard that their fucking relation is quite old, how come I never realized that Bhaiya and Didi started fucking? How could Simmi Didi do that, how she agreed to get on bed with Bhaiya? Whole fucking scene was floating in front of my eyes.
The way Bhaiya's monster was moving in and out of Simmi Didi's fuckhole, the way Simmi Didi was moaning and enjoying while getting stretched painfully wide by Harish Bhaiya, they way she was holding Bhaiya's back with arms of newlywed decoration and ornaments while gulping his monster in her fuckhole again and again, the way her fleshy thighs were wrapped around Bhaiya's pumping hips.
For me since then Simmi Didi was an ideal girl, bashful and very limited to talking to strangers and I started recalling the way she was blushing when Jija Ji was here to see her for marriage, does it mean that every such gesture from her side was fake…and in real life she is nothing but a slut.
I was hard and adjusting my monster again and again, first time in my life I wanted to masturbate while fantasizing Simmi DIdi. Gradually my mind set was changing and I started feeling envy for my brother, why Simmi Didi did not fucked with me, I was regular in masturbating and like most males of my age I was very eager to have sex.
Real incest sex stories
Very soon my thoughts started going beyond my control, deep inside I did not wanted to think about Simmi Didi that way but I was failing to do that. Now I was thinking about the possibility of fucking Simmi Didi and with such sinful thoughts, not only my fear of facing Bhaiya and Simmi Didi started disappearing but I started thinking about blackmailing Simmi Didi.
While sitting with such mind state I brought something to eat from hawker with a pet of soft drink. Almost one hour went off like that and Simmi Didi massaged me again "please come back home…I want to talk to you…please" as by this time I was reached to the height of anger and arousal I replied with a text "I don't want to talk to you…and I will tell everything to Papa"
and Simmi Didi instantly called me back. I intentionally missed the call again and she sent me text again "Please Manu…try to understand…please come back home and talk to me" that moment for instant I thought about writing back that you have only one option, you have to let me fuck you but I failed to gather courage to write that in any words and replied back with a text
"I will not come back home till night and please don't disturb me". Simmi Didi did not disturbed me again but my mind set was gone very strange, I myself told Simmi Didi not to disturb me, but deep inside I wanted her to try keeping touch with me. Finally after spending more than an hour in the park I decided to go to my friends place and in half an hour I reached there.
I sat with my friend in his study room and including sex we chit chatted over various subjects. Apparently everything was casual at my end but deep inside I was moved like never before. My thoughts went on going wild and I asked my friend if we can watch a porn movie and we did that in muted volume.
Real incest sex stories
10-15 minutes of porn movie set my desire on such a fire that I decided that I will certainly blackmail Simmi Didi in the night and she has to fuck with me. Though deep inside I was not fully prepared to do that but as lust and anger was raising throughout the time I reached back home either I was trying deciding the statements which I can speak to Simmi Didi to blackmail her or I was visualizing myself having fun with Simmi Didi's fleshy body.
Anyway like I decided I reached back home after my parent's arrival, I waited for my mom to call after reaching home and finally entered in the house. Bhaiya was yet not home, his bike was missing. After taking a shower my dad was sitting in the living room in front of the television. I casually sat with a dad and we shared couple of words over the reason why I came so late.
Finally mom appeared in the living room and scolded me for coming so late even when I knew that Simmi Didi is home and before she would have ended speaking Simmi Didi came from behind. She was wearing same Salwar Kameez which was kept on my study table chair when she was fucking with Bhaiya in my bedroom and for a moment she stared into my eyes without
Real incest sex stories
a flick but before anybody among mom and dad would have seen her serious expression she moved forward with a smile and hugged me like she use to. "kab se wait kar rahi hun tera…." In a way Simmi Didi spoke the truth but that instant nobody except me could understand exactly why she said that.
Simmi Didi kissed me on my cheek after hugging me and as my parents were watching I too kissed her same way. Simmi Didi sat beside me on the couch and once again looked into my eyes same way but with a smile and questioned me "aur batta kaisa hai?" "theek hun…aap bataao…aap kaise ho" I replied back with bit of choked voice.
I must say Simmi Didi was looking beautiful with a marital makeup over her face like Bindi and "Maang mein Sindoor" with lot of red color bangles in her hand and gold and black beaded necklace around her neck commonly known as Mangle Sutra.
I wanted to see her face as after knowing that she is not faithful to her husband all those things were very arousing to see on her face and body but don't know why I failed to look into her eyes straight and blushed a bit and moved my eyes to the television.
"subah se kuch khaya hai ya nahi….?" Simmi Didi asked me back what usually females ask when they meet anybody they care and I looked into her eyes and spoke "haan…kha liya tha" and my eyes got stuck to her heavy breasts. She saw me looking at her breasts and took my attention by asking "kya khaya….?"
Real incest sex stories
She asked me back and I replied back by saying "friend ke ghar gaya tha project banane…wahin kha liya tha" she kissed me again on my cheek and got up from there after saying that she has made something special for me. Didi went to the kitchen and while thinking that how she could be so casual after getting caught doing such a naughty act and that is with her brother.
I remained with dad in the living room. Didi came again and served me and dad something I use to love eating and went back to get something to drink. As dad was busy in watching news I did not tried to control myself looking at Simmi Didi's body and while looking at her fleshy thighs and big ass mounds over the clothes once again started recalling whatever I saw in the morning
and one again I started getting aroused as Simmi Didi was intentionally moving around me all the time. From her gesture I could make out that she did not wanted to leave me and dad alone in the living room and she just remained there and kept on looking into my eyes with a mild smile and I really don't know why I failed to look into her eyes confidently.
At my end some time back I was so aroused that I was sure that tonight I will fuck Simmi Didi but since I reached back home and face her I was realizing that I might not be able to face her alone and that's why I did not got up from the living room even to change my clothes.
Time passed, may be an hour and Bhaiya called that he might get late and my dad told him that as today Simmi is at home we all will have dinner together. Finally Bhaiya too came and like Simmi Didi he too looked into my eyes without a flick, I tried to face him but failed and ignored looking straight into his eyes.
Real incest sex stories
Dinner got served in the living room itself and we all had with a casual chit chat. With a passing time I stopped feeling conscious over Bhaiya's presence may be because he was busy talking to dad over one matter but even after trying hard I could not stop looking at Simmi Didi, at her face and at her body and I think she had noticed me staring at her body with all together different perspective.
Finally dinner came to an end and dad announced that till Simmi Didi is here she will sleep in Bhaiya's room, on the first floor and Bhaiya will sleep with me in my room, exactly where they were fucking in the morning. For a moment I got nervous and though about saying that I will prefer sleeping in the living room on the ground floor but I kept silent with a thought that, Bhaiya himself might try to avoid sleeping with me.
After some time Bhaiya went off from the living room and came back after changing and told Simmi Didi that she can go and sleep if she wants to. "nahi abhi nahi" Simmi Didi denied casually and looked at me with a smile and spoke again "itne din baad milun hun tum logon se…..thodi der baaten karte hain….".
We all sat there in the living room for quite long time and chit chatted over various subjects and ultimately when I realized that now mom and dad might not stay for long; just to avoid getting alone with Bhaiya and Didi in the living room I got up and took leave from there and came to my bedroom on the first floor.
Real incest sex stories
Virtually everything was intact like it was in the morning when I was off for my collage except my view to look at that room. I don't know in past how many times they had used my room and my bed to do the fucking. Anyway I bolted the door, changed and came to bed with a huge erection. Don't know that instant exactly what was running in my mind; actually it was a mess of thoughts.
While seeing Simmi Didi in the living room all the time I was recalling her fucking state, the way she was getting ragged by Harish Bhaiya in the day time, second I was thinking that after mom and dad's exit from the living room Bhaiya and Didi will also leave and they will stay on the first floor bedroom and have sex all the night because of which I was feeling jealous of my brother.
Real incest sex stories
Third I had a strong intuition that after our parents exit Simmi Didi and Bhaiya might come to talk to me and deep inside I wanted to blackmail Simmi Didi for having sex with me but I also knew that I won't be able to speak out my desire, especially if Bhaiya will be with her. Like this many thought keep on coming in my mind I lied on a bed with a complicated mindset.
I desired to masturbate but don't know why I was delaying doing that, may be because I was enjoying that aroused state or I was little positive that Simmi Didi might come alone and I might succeed in blackmailing her and that's what actually happened after 10-15 minutes.