Dinesh was a businessman who after earning a good name in India was shifted in New York city with his wife and boy Aditya who was just started to attend the school. Haasini was attending the guests in the party hall and was enjoying the music having a soft drink.
She noticed that someone is keeping an eye on her for a long time in the party, he was Rakesh, new servant of her after admiring her for sometime he came towards her and offered an another drink to her, as Haasini just had a drink she said no to him and he left from there.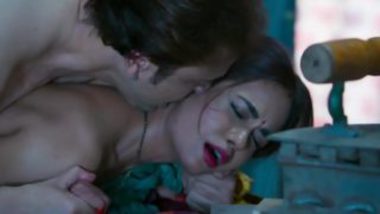 Rakesh was a well built black man as he was an Indian and it was not easy in the city there to get an Indian servant. After the party get over, all the guests left from there and Rakesh attempted to clean the party hall without any call of Haasini or her husband.
Dinesh told her that Rakesh will do all the household works and will cook too, Haasini was happy to listen all that. Next day Dinesh leave for his work early morning as he had to drop Aditya to his school on the way. Haasini left alone at home with Rakesh and told him to wash all the cloths which Rakesh started to do at the same time.
Rakesh was washing all cloths, those also contains the inner wears of Haasini. After washing clothes Rakesh cooked a very nice food and Haasini was very much impressed by his work. Rakesh was very good at any of the household work and there was no chance of any kind of complains regarding any of his work, some days passed in the same routine
That day I had to go in a party so I told Rakesh to put out my cloths on the bed from the robe and when he was doing that he asked me which color of saari madam and I told black then he said which color of blouse madam and I looked at him and said of course black Rakesh.
He again said bra, before I could react on that he said sorry himself and left out of the room keeping my clothes as I wanted. After I came back from the bath I saw Rakesh kept a black color of bra panty set in my cloths. I was in hurry so I dressed up in the same cloths and left for the party on the way.
I was thinking that the way of Rakesh talk is very bold and that is actually his nature, may be because he is living in New York for a long time and also he worked for the English families before us tats why, but overall he was very perfect at any of his work.
I reached the party and meet with my friends there, after some time Priya my friend who was the host of this party came towards me with a man and she introduced him as her cosine brother Vikram. We talked for some time and then Priya left from there to attend an another guest leaving Vikram there with me.
Vikram was continues talking to me, he told he is Vikram Thakur and he use to deal in properties and now he is in the same city. While talking Vikram told me many times that I am looking great and I thanked him a number of times then Vikram offered me a dance with him as the dance in the party was started.
I could not refuse him and have accepted to dance with him, while dancing Vikram hugged me tight towards himself but I told him to release me and he did innocently. Then while dancing we started talking about our lives and lifestyle, and he offered me his friendship as he told me he don't know much people in the city till now
And also I liked his nature so I stuck up a friendship with him and we moved together in the whole party and talked a lot about each other. I also liked to talk him and he given me my cell number to call him anytime. I returned back home from the party, there my husband was waiting for me and Aditya was sleep by now.
Dinesh told me that he need to go India for a month due to some business related problems and he will leave day after tomorrow. It was a big shock for me because Dinesh never left me alone for that long time but we had to adjust this time said Dinesh.
Next day he told every duty about home and all responsibilities of Aditya to Rakesh to follow till Dinesh came back from India. I asked Dinesh what I will do for such a long time here alone, he said why you don't join a gym or yoga classes for a month, you will spend a good time there.
I liked his idea but even then I was not feeling good for his going on the day Dinesh taken the flight for India I got very upset alone at home. Rakesh was taking good care of me, giving me juices and healthy food at time. I decided to join the gym and talked to Rakesh if he knows a good gym.
Rakesh said, you already have a perfect body madam, nicely shaped, why you need to join the gym while saying this Rakesh looked at me with full of his eyes, I said shut up to him and moved out from there and after thinking a lot I made a call to Vikram to ask him about the gym because my husband is been to India.
I'm not having anything to do Vikram told me I should join the gym he is regularly going to as it was the best gym in the city and I agreed on that. Next day Vikram called me back and told he is coming to my place to receive me for the gym and I told him that I have not yet decided till now to join or not.
He said don't worry you are going to do something good, and in no time Vikram was at my door. I was ready by then to go with him, I dressed up in a white shirt and blue jeans pent that day. Vikram was again very happy to see me in this dress and he said you look more beautiful than ever today.
I just thanked him with a smile and we reached the gym and I also joined there same day but Vikram didn't allowed me to pay my membership fee as he paid that on his own. I tried a lot but he did not take the money from me and told that we are friends
And that is just a little favour from a friend which I should also not mind from that day Vikram started calling me talking over the cell regular and we started meeting in the gym daily and he became a good friend of mine in some days. We were also heaving coffee sometimes together in a nearby coffee shop like some good friends.
I also visited his house sometimes; he must be quite successful in his field because he was rich and maintained a good house even after living alone. Once while heaving coffee Vikram said to me that he feels like he started loving me. I got shocked and said what? He said, take it easy, can't some good friends love each other.
I said, hmm ok I also feel good to spend time with you and our friendship was going like that only then my birthday came, Vikram was much excited then me that day. He brought some gifts for me and hugged me tight and kissed on my forehead wishing me very happy birthday when we meet in the gym.
I felt great about everything and thanked him. He said that's not all as he arranged a private party for us both at his apartment in the evening. I told him, I can't come because it's not good for me staying out of home in late night also my husband is not home. Vikram said, not in night dear.
We will celebrate in the evening and will end it up early and I should join him although he will feel bad about that. I said, ok I will try to come and he said he will wait for me and I should reach at 6 in evening in the evening and I got his call at sharp 6 that I haven't reached yet. I said I will be reaching soon.
I told Rakesh to take care of home and Aditya as I am going to attend a party but will try to come back soon. I wear a blue sari with all matches and reached Vikram house at 7'o clock ring the bell, Vikram opened the door looked at me said, you are late, party is over and closed the door on my face.
I got shocked and before I could react anything the door opened again and with a smiling face Vikram said, just kidding, happy birthday, and welcome me. I entered the apartment and said sorry to him for being late. He said sorry will not work and you will get the punishment for that. I asked, what punishment?
Vikram said with a smile, go in the kitchen and prepare some coffee for both of us. I happily went to the kitchen and prepared some coffee for both of us till then he was arranging the cake and snacks outside in the middle room for the private party of us both. I prepared we had the coffee, then he told me to cut the cake.
I cut, he poured some drink in two glasses and given one to me saying cheers. I said what is this Vikram and I don't drink, he said it's a light drink Revi and you can have it, also you have turned 26 years, so it can't harm you anyway.
I smiled at him and accepted it, then we had the dinner together which he ordered from some five star hotel. After the dinner I told Vikram and I am getting late and want to leave. He said one minute and bring out a packet from another room and handed me that as another gift for me.
I thanked Vikram for this too and told it was a great evening for me and I never enjoyed ever before like this and started leaving from there, as I reached the door of his apartment and turned to say last bye to him. He asked innocently, will you mind doing a favour to me. I said of course not,
He asked for the promise and I did, he said he want to see me once in the dress he just gifted me. I said how it can be possible Vikram as I am getting late. He said it a matter of sometime, please. I said ok and entered back again, he thanked me and told to change in another room.
I went to that room and removed very fast all my cloths I was wearing; I was worried to reach home quickly because of my son Aditya. I was in my blue color bra and panty when I opened that packet and I was shocked there was a short brown skirt and a short white top.
I shouted from inside Vikram I don't wear these kind of dresses. He replied from outside, oh please dear, you will look goddess in that and also you promised me. I thought for a movement then decided to wear it for sometime instead of wasting time in arguments.
I came out wearing that dress and Vikram comment, Oh sweetheart you looking glamorous, I love you, he came forward hugged me and kissed me on my cheek this time. I told that now I am going to change it as I have to leave, he said let me see you, please sit with me for some time.
I accepted that too and he poured another drink for us both, I haven't said no this time because I want to get free as soon as I could. We started talking again about each other's interest, I told him I like reading books like English novels of good writers.
He also said that he had a large collection of such material and asked if I wanted to see it and I can take it home if I like any of the books. I shrugged my shoulders and said why not. Vikram lead me to his another room. There were various bookshelves around the walls, small lap top on the desk which was kindly decorated with some feng shui stuff.
He opened one shelve and took out a book handed me. It was a romantic novel as I was looking it, I lost my hands control over it and it felt down. I bent down to get it, I forgot that I was wearing only a short skirt and a short top and that my panties were visible to Vikram behind me while
I was reaching down to get the book, he instinctively started rubbing the panties which clung to the lips of my cunt. I got turned on by the effect of drink and his rubbing the silken material of my panties turned me even more and got my pussy even wetter! He pulled down my panties and my cunt was open to him now.
He bent down and started eating my cunt out, I don't know what happened to me that I dropped the book and pulled his head closer. He tongue-fucked me and his tongue ate my clit till I came. Vikram took me in his arms and taken me towards his bed room
He cleared the bed by pushing all the magazines, newspapers and clothes on it down to the floor and pushed me onto it. He grasped my top and ripped it open. My breast was bulging against my bra, exposed to his hungry look. When my boobs came into view, Vikram plunged into my cleavage and kissed my chest.
I was also enjoying everything as it was very long when I had sex with my husband so I didn't even tried to protest. Vikram undid my bra and finally my skirt. I was now absolutely naked and I helped him to get out of his clothes fast then Vikram came over me with his cock over my mouth.
I started licking and then sucking his massive cock for a long time. Vikram was about to cum and started shouting keep it sucking, keep it in. I kept sucking and he came in my mouth, I swallowed all of his cum when he was done and I sucked him clean with all my worth till he was hard again.
He placed me again on the bed and positioned his cock against my cunt. He said lustfully: Haasini, from the day I am in friendship with you, I couldn't help thinking of you. You are turning me on! I have jacked off many times, thinking of you and I have wanted to fuck you since then! Today I will fulfil my lust!
I was wet, his cock was driving me crazy and I wanted him so badly. So I just looked into his eyes and said so, fuck me, Vikram. Fuck me. Give it to me! I want your cock inside me. I want your fucking cum all over me! Give me your cock with that he pushed his cock into my cunt and I gasped, when his huge monster slipped through my soft flesh.
He fucked me and squeezed my jiggling breasts. I came once more while his 7 inches went in and out of my cunt in a rhythmic motion and my body was slapping and shuddering against the bed. He banged me with all his worth, soon, sweat was pouring down his chest and I could feel my juices squelching down my pussy!
Finally, when I could feel another orgasm build up, Vikram screamed out he was going to cum opening my eyes wide, I gasped at him cum all over me! Give me that cum and I want you cum on my body. Finally, he withdrew and splashed hot torrent of fresh sperm all over my face.
He was directing his cock and his cum was shooting out all over me in the long run Vikram sighed and collapsed against my breasts. He fondled and kissed my breasts and was getting another raging hard on. This time he carried me to his middle room and fucked me proper in there, two times on the sofa! Each time he came in my pussy.
I really loved it and I liked that feeling. I washed up in the bathroom and as I started dressing up in my dress which I was wearing when I came here. Vikram stopped me and said you should only wear the dress I gifted you this evening and nothing else except that.
I said I can't go home wearing that as my servant Rakesh always keep an eye over me and he will get a doubt if he will see me in an another dress also he can tell my husband about this. Vikram said it's late night 11 pm now and your servant and child must have got slept till now, you will wear this dress only Haasini if you want to go although you can't go.
I said ok I will go wearing that only and I tried to wear my panty at first, Vikram taken that from my hand and said I told only cloths I gifted you this evening and nothing else. I said let me wear panties at least, he said no, all your these cloths will remain here with me and I found no other option.
I wore the same short skirt and top only to go back home. We kissed and I went out of his house and taken a taxi for my home. I reached my home at 12'o clock in night there Rakesh and Aditya were really sleeping. I checked my cell which was silent and saw 3 missed calls of my husband Dinesh.
I called him and told I was stuck in a party so have not seen his call in time. Dinesh didn't reacted bad for that and said sorry for wishing me a late birthday as he was stuck in very important meetings, I told him I can understand and am not angry for that. Dinesh was happy to listen that and told me he is coming back home next week and will organize a big belated birthday party for me after coming back, we ended the call with this.
I had a shower while thinking what actually I had done today and I was feeling very bad and guilty for cheating my husband. It was hard to believe for myself, I could do this but I did that. I got tears in my eyes and I knew I would not get a sleep tonight, as it was a 'wrong turn' of my life.